Challenges are obstacles that often require creativity and new thinking to overcome, but self-limiting beliefs are true barriers to personal and professional progress, according to artist and speaker Phil Hansen.
In his keynote address, Hansen shared lessons he learned when a physical limitation temporarily caused him to give up his art.
Hansen previously created pointillism, the art form that uses dots to draw recognizable imagery from a distance. Because it requires precision, Hansen said he held his .005 mm pen so tightly that it caused nerve damage. His hand started to tremble, and those precise points began to resemble tadpoles. He could no longer make the art he loved.
"Spending all my life creating dots, I couldn't consider doing art any other way."
He initially gave up art completely. It wasn't until after he saw a doctor who confirmed his condition was permanent and who encouraged him to "embrace the shake" that Hansen began to consider what that might look like.
"I discovered something: Limitations are actually an opportunity in disguise. They are needed to activate our creativity," he said. "It's not simple, but involves changing how we approach what we are encountering."
Today Hansen creates large format art, using a variety of media.
By reconsidering how he creates art, he began to experiment. This led to recording videos of his creative process in which he destroyed the art after creating it. With pieces like a matchstick portrait of Jimi Hendrix that goes up in flames (https://www.youtube.com/watch?v=bxabHg–WBE), the enduring art was the creative experience rather than the resulting image.
The removal of the traditional canvas and ink led to a state of constant creation, thinking of only what's next, and coming up with more ideas than he'd ever had.
"What I thought would be the ultimate limitation, was actually the ultimate freedom of expression."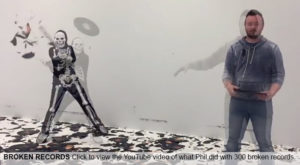 His new art method has led to commissioned works for the Rockefeller Foundation, the opening of the Cars 2 movie, and the Grammy Awards.
"When we are confronted with a challenge … our success in that work greatly depends on our ability to shift what we see in front of us," he noted.
Hansen insisted his was not a Pollyannaish approach to challenges and limits. But he said he's found that two people can have different experiences with the same challenge because some allow a self-limiting belief hold them back. "It's not easy. … It's really stinking hard. But if we can change our beliefs, we can change our lives."
Often people are defeated by limited external resources rather than fully deploying their limitless creativity and capabilities, he added.
"To get there, you don't need more people, more tools, more time, or more money. … Our most valuable resources are our internal resources, our creativity, adaptability, imagination, and resilience, he insisted.  "When we make the most of what's on the inside, the resources that are available to us on the outside can go so much further."