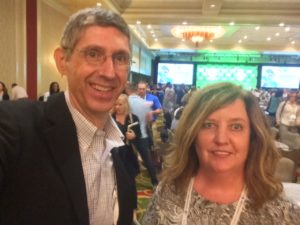 Good proposal managers manage. Great proposal managers lead.
That's the perspective of two consultants speaking at the APMP Proposal-Con conference in New Orleans
"A manager implements what they're told to do, using the tools at hand," said Lisa Pafe, a consultant with Lohfeld Consulting. "A leader is charged more with charting a new vision."
Great proposal managers who lead are proactive in the RFP process, Pafe said. This requires both engaging the capture team early and applying how your organization or solution exceeds the competition.
"Effective proposal managers are not simply process drivers. … They collaborate early with the capture manager and solutions team," she said. "Too often we're handed a stinking pile of you know what because we were not involved in the process."
Liz Scarlatos, also of Lohfeld, added that engaged proposal managers often have similar characteristics as client-facing sales staff, including "a burning curiosity and involvement in what your company is offering." They also ask questions about the client to understand what they value and what will motivate their decision making.
7 Seismic Shifts
Drawing from a Harvard Business Review article, Scarlatos listed "seven seismic shifts" in the transition from manager to leader:
From specialist to a generalist. This is seen when taking part in the entire business development cycle rather than one specific aspect of proposal writing or managing.
Analyst to integrator. Consider not just your slice of information, but how that fits into the entire pie, she said.
Tactical to Strategist. Rather than simply receiving input from the team, Pafe said the manager must be willing and able to provide feedback when other team members provide content that needs improvement.
Bricklayer to architect. Good proposal managers assemble the proposal brick-by-brick, she said. Architects, however, say, "Here's our strategy, our differentiators. Are those coming across?"
Problem solver to agenda setter.
Warrior to diplomat. Leadership often involves interacting with higher-level company officials, and yelling isn't advised, she said.
Supporting cast member to lead role.
Drawing from Jim Collins' landmark business consulting book, "Good to Great," Pafe noted that Collins writes that great organizations focus on both what to do and what to not do. She and Skarlatos asked the audience to write lists of both subjects. Responses included:
To do:
Learning to say no.
Getting leadership buy-in.
Improving communication.
To not do:
Going along on opportunities not prepared for.
Whining.
Ignoring work/life balance.
Pafe also cited Collins concept to encourage the audience to consider where their personal greatness lies. "We can achieve greatness at the nexus of three intersecting circles."
What can I be great at?
What are my economic motivators?
What am I passionate about?