The same principles of improvisational comedy can be applied to your job, according to comedian and speaker Izzy Gesell.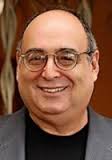 Gesell lead the audience through a couple improvisation exercises to demonstrate the concepts of presence, acceptance, and trust.
Presence. Improvisational performers are taught the "point of concentration" stay in the moment, unbothered by past performances or what might be in the future, Gesell said.
"They're not thinking on their feet. They're acting," he said. They address "the smallest bit of information I need to focus on in order to move forward toward my goal."
Remaining in the moment removes distractions of regret for the past or anxiety about the future. (more…)